The pace of technological advancement has propelled us into an era where innovation is not just a choice, but a necessity. At the heart of this digital revolution is the mobile app – a ubiquitous tool that has seamlessly integrated into every aspect of our lives. Innovating Your Interactions is not just a catchphrase; it is a directive that beckons us to embrace the future with a cutting-edge mobile app that promises to reshape the way we engage, communicate and navigate the complexities of modern existence. The essence of this innovation lies in the app's ability to transcend traditional boundaries. Gone are the days when mobile apps merely served singular purposes. Today, a sophisticated mobile app is a multifaceted gem, seamlessly blending utility, entertainment and connectivity into a single, harmonious experience. Picture an app that learns from your behaviors, anticipates your needs and evolves alongside your preferences. This personalized interaction is the cornerstone of the future, creating a symbiotic relationship between user and technology that feels almost intuitive.
But innovation does not stop at personalization. The cutting-edge mobile app of the future leverages emerging technologies to create a truly immersive experience. Augmented reality (AR) and virtual reality (VR) have transcended novelty to become integral components of this digital landscape. Imagine trying on clothes virtually before making a purchase, touring real estate listings from the comfort of your current home or collaborating with colleagues in a shared virtual workspace no matter where they are in the world. This app is not just a tool; it is a portal to endless possibilities. Security, often a lingering concern in the digital age, receives a futuristic overhaul in this app as well. State-of-the-art encryption, biometric authentication and decentralized data storage combine to create a fortress of privacy, ensuring that your interactions remain exclusively yours. The app does not just connect you to others; it safeguards your digital footprint with an unwavering commitment to protecting your information.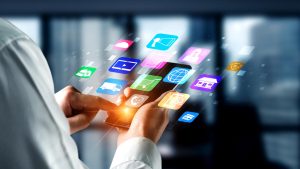 As we stand on the cusp of this new era, embracing the potential of this cutting-edge mobile app becomes imperative. It is not merely about convenience; it is about redefining the contours of our lives. The future is not a distant destination; it is unfolding before our eyes, pixel by pixel, line of code by line of code. Innovating Your Interactions is not a suggestion – it is an opportunity to participate in a transformation that is already underway. In conclusion, the cutting-edge mobile app is an embodiment of our collective aspirations, a testament to human ingenuity and a portal to the future we have always envisioned. It revolutionizes interactions, blurring the lines between the digital and physical realms and seamlessly integrating into the tapestry of our lives. So, take the leap, embrace the future and let this remarkable mobile app redefine the way you interact, connect and thrive in the world that lies ahead.