In today's digital landscape, where online presence is paramount, crafting a compelling virtual identity has become a cornerstone for building brands and fostering meaningful connections with audiences. At the heart of this endeavor lies the art of thoughtful web design—a dynamic interplay of aesthetics, functionality and storytelling. A brand's website serves as its virtual storefront and just as a physical store's layout and ambiance influence customer perceptions, a website's design profoundly impacts how users perceive and engage with a brand. Thoughtful web design goes beyond mere visual appeal; it encapsulates the brand's essence, values and narrative, translating them into a digital realm. At the outset, web designers must immerse themselves in a brand's ethos to translate its uniqueness into a digital experience. Colors, typography and visual elements are chosen with care, resonating not only with the brand's identity but also evoking emotions that resonate with the target audience.
Consistency in design elements across the website fosters familiarity and strengthens brand recall, as users associate particular visuals with the brand's offerings. This visual consistency extends beyond the website to various online touchpoints, reinforcing the brand's presence and creating a unified identity across platforms. Functionality is another critical facet of thoughtful web design. A well-structured, intuitive layout guides users seamlessly through the site, ensuring easy navigation and access to key information. Load times, responsive design for mobile devices and accessible user interfaces contribute to a positive user experience, enhancing the brand's reputation for professionalism and reliability. By focusing on functionality, brands communicate their commitment to meeting customer needs, leaving a lasting impression of efficiency and user-centricity.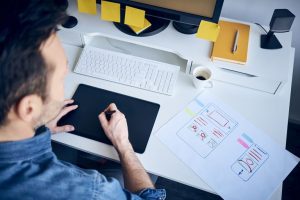 Yet, the true power of thoughtful web design lies in its storytelling potential. Every brand has a narrative—an origin story, a mission and values that shape its journey. Through strategic placement of content and visuals, web designers weave this narrative into the fabric of the website. Compelling storytelling not only engages users on an emotional level but also fosters a sense of connection and trust. Users are more likely to engage with a brand that shares its purpose and values transparently, which can lead to stronger brand loyalty and advocacy. In essence, crafting a virtual identity through thoughtful web design is akin to sculpting a digital masterpiece—a harmonious blend of aesthetics, functionality and narrative. This endeavor demands a deep understanding of the brand, its audience and the digital medium. The result is not just a website but a digital sanctuary where brand and audience converge, forging relationships that transcend the virtual realm. As the digital landscape continues to evolve, brands that invest in this art of web design are poised to create enduring impressions, foster brand loyalty and stand out in the ever-expanding online marketplace.